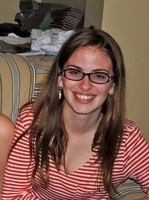 Bronwyn Beairsto grew up in Whitehorse, Yukon surrounded by mountains, bears, and many pet dogs. She moved to Newfoundland to attend Memorial in 2010 and quickly fell in love with anthropology. She minored in folklore and graduated in 2015 with an honours degree in anthropology. She is now back in the Yukon working as a ReSDA research assistant at Yukon College.
What would your undergraduate self think of your current job?
My current job is as a research assistant at the Yukon Research Centre. My undergraduate self would be pleased to have found a job that not only interests me, but that allows me to work with and observe seasoned social scientists outside of a classroom.
What was your biggest challenge when arriving at university and how did you address this?
My biggest challenge was probably learning to study, not procrastinate, and to not wait until the very last minute to complete projects. I was never fully successful at addressing this, but allotting a certain amount of time per day for study in each subject was helpful.
What resources did you use while at MUN?
Communicating with my professors was very important. Ask them for help and what you can do to improve. Do not be embarrassed to ask questions, even ones you think are stupid. Librarians are also very helpful. Humanities and Social Sciences students write many many papers and librarians are very efficient at finding relevant sources.
Did you ever meet with advisors, faculty or staff while a student?
I met with staff and advisors. Everyone was very friendly, and if they did not have the answer, pointed me towards someone who would. Once I was in the higher level classes and felt comfortable talking to faculty, they were very willing to impart advice.
How did your extracurricular activities (on and off campus) influence your success?
While first year I perhaps prioritized extracurricular activities, especially residence events, over academics. Later in my degree the distraction from extracurriculars, such as hiking and jogging clubs, helped me to de-stress when school was getting intense. Sometimes anthropology classes can be very heavy (serious subjects), and it is important to take the time to enjoy your immediate surroundings.
Was there an experience you had during your university years that influenced or put you on a path to your current career?
At MUN I realized I liked academia. It inspired me to seek work in the field, and hopefully continue on to a masters.
Did you participate in a study abroad program?
In third year I did Theatre and Social Justice at Harlow. It was the best semester of my degree. If it is an option, go to Harlow or overseas, especially in anthropology. Having the chance to practice your subject in a new context gives you insight not only into how much you are learning in your degree, but how it can be applied in a world beyond Memorial.
What advice do you have for undergraduate students?
Take as many classes in as many departments as you can early on. Find a subject you like and professors you like. Try classes that interest you, even if they seem impractical, because working hard in a subject you love is preferable to struggling through a degree you hate. And may lead you to a career you never considered (or in our rapidly changing times, that doesn't exist yet!).