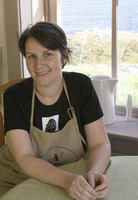 A graduate of Memorial's history department, Jill Curran is the proprietor of Lighthouse Picnics, one of Newfoundland and Labrador's premiere tourist destinations.
After living abroad in New Zealand and Scotland, Jill returned home to Ferryland to restore the lighthouse that her great-grandfather once maintained. Called one of enRoute Magazine's 100 favourite things to do in the world, among other accolades, Lighthouse Picnics brings thousands of tourists and visitors to Ferryland every year. Her first entrepreneurial success spurred Ms Curran to purchase Maximm Vacations in 2010 which offers customized self-drive and escorted tours of Atlantic Canada.
What would your undergraduate self think of your current job?
I think my undergraduate self would quite enjoy my current job, I am truly using the information I studied during my history degree. I took several courses with Dr. Shannon Ryan & Dr. Bill Kerns and I really do get to share the information I learned quite often with our guests.
What was your biggest challenge when arriving at university and how did you address this?
My biggest challenge at university was time management. I wanted to do everything! I volunteered a lot, went out with friends lots, was living on my own for the first time with friends, was taking a full course load…. so sometimes I would be amazed where the time went, and how that paper was now due tomorrow! I pulled some very late nights on many occasions!
What resources did you use while at Memorial?
In my quest to do everything, I used a lot of resources - I practically had a chair at the Centre for Newfoundland Studies! I attended seminars on health & wellness through the Wellness Centre, volunteered at the Student Volunteer Bureau (I ran it in my last year), attended fitness classes (having Dr. Noreen Golfman as an aerobics instructor sticks in my mind!), and used the services of the Career Counselling Centre. I also attended many seminars/information sessions on campus on a variety of subjects that were of interest to me. For example, the Fisheries Forum (the cod fishery had just closed and we were all in disbelief, and this was a group that met regularly to discuss the issues and what would be the future of the fishery), there were many others meetings/sessions I attended on topics ranging from low level flying in Labrador, the environment, etc. I remember there was a free seminar at the Arts & Culture Centre once with Dr. Gwynne Dyer.
Did you ever meet with advisors, faculty or staff while a student?
Through all the above activities I mentioned there was always a strong presence of MUN faculty and staff. I always thought this was great, because outside of class work, you could really hear their thoughts on various subjects they were passionate about. We had a very informal Irish History social club with Dr. Bill Kerns.
How did your extracurricular activities (on and off campus) influence your success?
I volunteered off campus with the Association for New Canadians and at the Grace Hospital. On campus I volunteered with various activities through the SVB, some that come to mind now include: Orientation, Santa Claus parade, children's festivals, Bowl for the Kids, etc. All of these activities I think led me to look at life from different perspectives... from the need to do more, to the pure joy which comes from making a connection with someone and feeling you've both had a better day because of this conversation/connection.
Was there an experience you had during your university years that influenced or put you on a path to your current career?
Although I truly didn't know at the time this was my career path, I think all the things I learned at Memorial have led me to where I am today. Even as a child I was passionate about history, I would hang out at our local museum, I spent hours and hours with my grandparents and their friends listening to all their stories about the past, the hardships, the fun and everyday life. When I went to Memorial for the first year I took a range of courses to see what I would do, I just naturally gravitated to history and all things Newfoundland and Labrador.
What advice do you have for undergraduate students?
It is so true that the world is at your fingertips at this point in your life. Get involved and see where your passion lies! Volunteer, join student groups, attend lectures for pure interest and all these experiences will help show you where your true passion lies. Overlay these experiences with your studies and you will see where you naturally gravitate and where you belong.