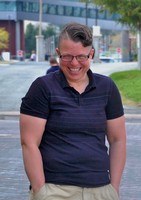 A widely known activist and up-and-coming poet, Gemma Hickey is the advocate of many causes, but is best known for co-leading the movement that legalized same-sex marriage in Canada. She is the Founder of the Pathways Foundation, an emerging agency that offers support to survivors of clergy abuse and the Executive Director of For the Love of Learning, an arts-based charity that works to improve the lives of at-risk youth. A proud graduate of the religious studies department, she is the recipient of many scholarships and awards, including a Queen's Diamond Jubilee Medal in 2013. She is now a graduate student in the gender studies department. In the summer of 2015 she walked 900 kilometres across the island of Newfoundland to raise funds and awareness for the Pathways Foundation, an organization focused on those who have suffered abuse at the hands of the clergy.
What would your undergraduate self think of your current job?
My undergraduate self would be impressed by my current job, which is executive director of For the Love of Learning. I design cool arts projects that inspire and empower at-risk youth and I'm also a writer. Through my job, I combine my passion for social justice with my love of the arts. I actually considered doing social work as an undergraduate degree, but switched to religious studies out of pure interest. I was able to draw on my academic background when I founded Pathways, a non-profit for men and women who have experienced abuse within religious institutions in 2013.
What was your biggest challenge when arriving at university and how did you address this?
My biggest challenge was myself. I was still struggling with being a survivor of clergy sexual abuse. It was very difficult for me to focus on my studies. I ended up having to take a break from school after my first semester. I did go back eventually and finish my degree. And, this past January (2015), began my masters with the Department of Gender Studies at Memorial. My focus will be on activism as healing in terms of religious institutional abuse.
What resources did you use while at Memorial?
Mainly the resource centres. I often frequented the Women's Resource Centre and was the general director of LBGT-MUN. The library was helpful, but the Breezeway more so.
Did you ever meet with advisors, faculty or staff while a student?
I resurrected the religious studies society so I was always organizing socials and lectures that provided students and faculty the opportunity to get to know one another. I like the idea of learning from someone who I can relate to on many levels.
How did your extracurricular activities (on and off campus) influence your success?
The activism and organizing I did on campus lit a fire in me that's still burning! Nothing motivates me like a cause and when I believe in something I give it all I got.
Was there an experience you had during your university years that influenced or put you on a path to your current career?
As general director of LBGT-MUN I travelled to Halifax to present a brief on same-sex marriage to the Standing Committee on Justice and Human Rights in 2003. After I graduated, I co-led the fight for equal marriage across Canada as president of Egale Canada and as an executive member of Canadians for Equal Marriage, playing a key role in the provincial court challenge, which I later wrote about. My essay, "Apples and Oranges" was published by Breakwater Books in an anthology called Out Proud: Stories of Pride, Courage and Social Justice.
Did you participate in a study abroad program?
No, because there's no better place to learn or to live than right here in this province.
What advice do you have for undergraduate students?
Follow your dreams. They can actually be employable if you're creative, witty, and have a lot of heart.