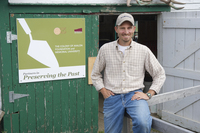 Dr. Barry Gaulton is an associate professor in the Department of Archaeology. His research focuses on life in Eastern North America and Newfoundland during the 17th century. Broad themes of interest include historical archaeology, vernacular architecture, material culture, military archaeology, maritime archaeology and transhumance. Dr. Gaulton currently directs archaeological projects at Ferryland and Sunnyside, and actively involves graduate and undergraduate students in his research.
What would your undergraduate self think of your current job?
My undergraduate self would be envious. Archaeology students aspire to be involved in intellectually-stimulating research set in a scenic location and surrounded by experienced and knowledgeable colleagues. I am fortunate to have all that here at Memorial. If I could turn back the clock, I'd follow the same career path.
What was your biggest challenge when arriving at university and how did you address this?
The transition from high school to post-secondary was the biggest challenge in terms of academic expectations. It took a bit of time to adjust to the workload: more reading, studying and writing papers.
Money for tuition and books was also a challenge. I worked part time at Mr. Sub on the weekends to help pay for my undergraduate degree. I must have made thousands of subs; strangely enough I still crave sub sandwiches!
What resources did you use while at MUN?
The QEII library was my second home. Our St. John's campus library is fantastic. It has extensive holdings (lots of archaeology and history books/journals) user-friendly spaces and a helpful staff.
Did you ever meet with advisors, faculty or staff while a student?
Yes. I still remember the advice of my first and second year academic advisors. They had a significant impact on my career path. Once I decided on an archaeology major and history minor, I began to meet with faculty and staff in both departments on a regular basis to ask about courses and upcoming field and lab opportunities.
How did your extracurricular activities (on and off campus) influence your success?
Several years of MUN Shotokan Karate (under Dr. David Bell) helped instill discipline and camaraderie.
Was there an experience you had during your university years that influenced or put you on a path to your current career?
There were two memorable experiences which set me on the path to archaeology as a career choice.
The first was taking Archaeology 1030 (Introduction to Archaeology and Bioarchaeology). Not only was the course extremely interesting but the instructor (Dr. Sonja Jerkic) was very passionate about teaching. I was hooked right away. After taking a few more archaeology courses, and seeing that other faculty were equally enthusiastic about the discipline, I knew that archaeology was the degree program for me.
The second was an opportunity to conduct fieldwork in 1992 under the supervision of Dr. James A. Tuck. I couldn't have asked for a better mentor and friend. Jim taught me almost everything I know about archaeological excavation. Once I got my 'hands dirty' in 1992, I never looked back.
Did you participate in a study abroad program?
I studied for a semester at MUN's Harlow campus in Essex, England. It was a life-changing experience. Learning about Medieval cathedrals and Neolithic monuments in textbooks doesn't compare to actually seeing them in real life. While at Harlow I was fortunate to learn under Dr. Gerald Pocius, another very important and positive influence in my academic career.
What advice do you have for undergraduate students?
Class attendance is very, very important! Getting lecture notes from another student or through D2L is okay if you are ill, but if you want to learn and be inspired then come to class.