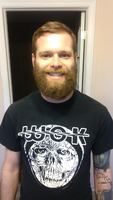 Jonathan Price is originally from North Harbour, a rural fishing community located in Placentia Bay on the island portion of Newfoundland and Labrador. After moving to St. John's to finish his primary and secondary education, Jonathan enrolled in Memorial University, where he successfully completed a Bachelor of Commerce (Honours) as well as a BA in sociology; he graduated from Memorial University in 2011 with a MA in sociology. Since 2012, he has been employed as a research assistant with the Association for New Canadians in St. John's, where he contributes to the provision of settlement and integration services for immigrants and refugees. Jonathan was also part of a research project designed to assess youth attitudes towards immigration, multiculturalism and racism in St. John's. A journal article based on that research was finalized in March 2015 and will be published in the Journal of Youth Studies.
What would your undergraduate self think of your current job?
My undergraduate self would be shocked that I did not end up pursuing a career in academia. After choosing to pursue sociology as my field of study, I was sure that the only option for me after graduation would be more and more school with the end goal of becoming a professor, but I was wrong. My undergraduate self would also have no idea where I work or what I do. As an undergrad, I was very oblivious to the immigration system in the province and, in particular, the fact that there was a support system for newcomers in the city at all. I think my undergraduate self would be thrilled to hear that I'm working in a sector that not only provides me with an opportunity to develop my research and writing skills (my supervisor has provided me with numerous opportunities for publication), but also an opportunity to help people that really need and appreciate the support.
What was your biggest challenge when arriving at university and how did you address this?
I think my biggest challenge was a lack of networks to provide me with support, guidance, etc. When I first started attending Memorial, I was the first person from my family to do so and, thus, I was never taught how to properly navigate a post-secondary institution (i.e., a lack of cultural capital – yay social theory!). So, for example, it took me a long time to adjust my high school study habits and paper writing approaches to be successful in university. Further, the majority of my friends did not attend Memorial so I did not have many social networks on campus to provide me with information, support, etc. In order to address this issue, I made a conscious effort to socialize with as many classmates as I could (including social activities outside of class). Many of the networks that I made during my time in Memorial provided me with an abundance of valuable information, tips, etc., including participating in numerous study groups that were instrumental to my undergraduate and graduate success. In fact, one network that I made in the business faculty introduced me to a part-time, on-campus job that helped me pay for some of my undergraduate tuition and accumulate valuable technical skills.
What resources did you use while at Memorial?
I regret to say that I did not use as many resources at Memorial as I should have, outside of the Writing Centre and the computers and books at the QEII Library. Maybe I would have used more if I was introduced to all of the available resources (I'm sure that not attending my orientation in first year didn't really help!).
Did you ever meet with advisors, faculty or staff while a student?
On several occasions I met with an academic advisor with the Office of the Registrar. The majority of my visits occurred when I was transitioning from my Bachelor of Commerce program into a double major program that included sociology. The advisor was extremely helpful with planning my course load and ensuring that I met all my requirements for graduation in two faculties.
I also met with a number of faculty members in the Department of Sociology when I was considering entering the MA program. These meetings were very helpful, as they introduced me to the options that would be available to me after completing my undergraduate program and allowed me to make an informed decision regarding graduate school. Also, my eventual supervisor was very helpful in assisting me apply to graduate school (e.g., helping me fill out forms, developing my research idea, etc.).
How did your extracurricular activities (on and off campus) influence your success?
Actually, one of my biggest regrets is my lack of extra-curricular activities when I was younger. If I knew what I know now, I would have been volunteering as much as possible during my time at Memorial to meet new people, accumulate employable skills, and to broaden the opportunities available to me.
Was there an experience you had during your university years that influenced or put you on a path to your current career?
Yes. In my second year of undergrad I completed a 2000 Level sociology course. This was only my second sociology course, but I instantly fell in love with the course material and the passionate, entertaining lectures of Dr. Ailsa Craig. During that semester, I became more and more interested at the thought of focusing my studies in sociology and, one semester later (with some encouragement from Dr. Craig), I had decided to make it my second major and I have never regretted my decision.
Did you participate in a study abroad program?
Unfortunately, no, but I would absolutely encourage anyone to jump on the opportunity if they ever have it.
What advice do you have for undergraduate students?
Volunteer as much as you possibly can. As I have found out, it can be difficult to find quality employment with an MA in sociology, so it is absolutely critical that you start developing your transferable (employable) skills as soon as you can. While the theory that you learn throughout your program is valuable, it is important to focus on the employable skills that you are accumulating (e.g., some of the most important skills that I gained from my sociology degree are my ability to develop surveys and work with SPSS - software for statistical analysis). Volunteering is also a great way to expand on your social networks and identify new opportunities (including potential job openings).
It is also very important to maintain the quality of your social networks. For example, while having good references on your resume is important, you never know when a potential employer will ask the opinions of someone NOT on your resume, especially in such a small city like St. John's where everyone knows everyone.
Networks are also important because they provide you with important information that could, for instance, secure employment for you. For example, without talking to fellow students in my graduate program, I would have never known about the Graduate Transition to Employment Program (GTEP), which was a big piece in securing my first job after graduation.