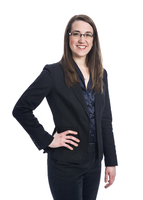 Sophie St. Croix lives in Paradise with her husband and works as an associate with Roebothan McKay Marshall. In 2009, she graduated from Memorial with a Bachelor of Arts degree with a major in classics and minor in history. Sophie was awarded the Gold Medal in classics as well as several awards and scholarships during her undergraduate studies.
After taking a year off to work as a personal trainer and fitness instructor, Sophie attended the Schulich School of Law at Dalhousie University in Halifax, Nova Scotia, graduating with her Juris Doctor in 2013. She completed her articles with Valerie Hynes of Roebothan McKay Marshall and successfully completed the Newfoundland and Labrador Law Society Bar Admission Course in fall 2013, earning the Hunt Award for highest overall average in the course, as well as awards for the highest scores on the criminal law and family law examinations. Sophie was called to the bar in February 2014 and continues to work as an associate at Roebothan McKay Marshall. Her practice focuses on personal injury, civil and estate litigation, real estate, and family law.
In her spare time, Sophie enjoys spending time with her family and binge watching Netflix. She and her husband are busy with three cats – Bella, Abbie, and Roxy – and their year-old Goldendoodle, Sam.
What would your undergraduate self think of your current job?
I do not think that I would have been surprised at where I am today. Although for a couple of years during my undergraduate work I seriously considered pursing graduate work in classics, I have wanted to become a lawyer since I was in the third grade. My undergraduate work was a wonderful time to take courses that interested me and at the same time they allowed me to develop the reading and writing skills that are so important to my career as a lawyer.
What was your biggest challenge when arriving at university and how did you address this?
My biggest challenge was moving to a new province and starting university without any of my friends. Before starting university, I moved to Newfoundland and Labrador from Alberta. My mother, Dr. Patricia Dold, is a professor of religious studies at MUN and is the department head of gender studies. She moved to St. John's when I was in grade 11 in Alberta, so I stayed behind to finish high school but moved here after graduation. It was very intimidating to start university in a new place where I did not know anyone! This was particularly difficult for me because, although generally (I think) confident and outgoing in an academic and professional setting, I am quite introverted. I faced this challenge by engaging with my peers and I soon found that that Newfoundland generally, and Memorial in particular, is a very welcoming place and I felt at home very quickly.
What resources did you use while at Memorial?
The library was my favorite place; I often went there and had great help from the staff and research resources there. I also took the time to introduce myself to my professors and did not hesitate to ask for help or discuss ideas for papers, research, and so on.
Did you ever meet with advisors, faculty or staff while a student?
I am not sure that I ever did this officially, but I often discussed my future plans with professors as I tried to decide whether to pursue graduate work or go to law school. In terms of planning my courses, I generally did this on my own.
How did your extracurricular activities (on and off campus) influence your success?
I was involved in dancing and some part-time work during my undergraduate studies, and I think those activities helped me develop time-management and multi-tasking skills that are very important in many careers, including law. It is also important to have other interests that keep you "sane" rather than focusing on studies all the time!
Was there an experience you had during your university years that influenced or put you on a path to your current career?
As I said, I have wanted to be a lawyer since I was in the third grade but I loved classics so much that I considered pursuing graduate work instead of going to law school. My mom gave me some advice that really helped me decide what I wanted to do. She said that, yes, doing something you are interested in is very important, but you need to think about what you want your life and career to look like, including where you want to be financially. It is fine to say that you are going to follow your dreams, but you also need to think seriously about what that will mean for your life and whether you are satisfied with that. I had a clear picture of my career goals and how I wanted my life to be and ultimately I decided that pursuing law was a better fit for me.
Did you participate in a study abroad program?
No. I am a bit of a terrible traveler – I am not sure that I could handle living in a different country for months at a time.
What advice do you have for undergraduate students?
You need to find a balance between preparing for your future career and pursuing studies that you are genuinely interested in. For example, if you are thinking of going to law school, there are not very many substantive courses that you "need" to take, but you will need to develop strong reading and writing skills. There are so many areas of undergraduate study and I think that if you choose courses based on subject matter you are actually interested in, you will probably be much more successful. I guess the message is: make sure that you are preparing for your future but do it in a way that you get to study things that genuinely interest you.