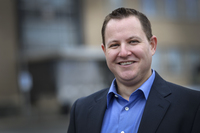 From the time he dressed up as a reporter for a Grade Two Halloween costume contest, Jeff Green knew he wanted to work with words. A graduate of Memorial's Faculty of Arts and the School of Journalism at the University of King's College in Nova Scotia, Jeff has worked as a reporter and writer for national and regional publications as well as public and private radio throughout Atlantic Canada. He is an award-winning communicator and marketing professional with more than 14 years of experience in the areas of strategic communications, media relations, journalism and marketing. Jeff has worked in provincial government, corporate, media and not-for-profit settings. Today he's the communications co-ordinator with the Office of Alumni Affairs and Development and the Division of Marketing and Communications at Memorial.
What would your undergraduate self think of your current job?
Pretty excited, I think, to be working not only at Memorial (a place I loved as an undergrad) but also directly utilizing the skills and training gained from my Arts degree — communications, writing, research and analytical skills.
What was your biggest challenge when arriving at university and how did you address this?
One of the biggest challenges I faced when I began at Memorial was balancing my courses with a budding writing career. In my first week at Memorial, I landed a pretty plumb freelance gig for a fresh-faced young writer. The side job was great as I had my sights on journalism school since junior high school I and needed to build a writing portfolio. However, I needed a degree in order to be accepted into the journalism programme I was considering. Taking stock of my academic obligations, as well as my own personal desire to become a professional writer, I quickly realized that I needed to take things in stride and find some sort of balance. I decided that I would write when I could — which meant when assignments and research papers were finalized. I also realized the more I wrote — and interviewed people — as part of my Arts degree it was great practice and experience for my next freelance gig.
What resources did you use while at Memorial?
I was a frequent visitor to the Centre for Newfoundland Studies and the Archives in the QEII; to the point where staff quickly knew my name. I also spent a fair chunk of my time in the Memorial University of Newfoundland Folklore and Language Archive researching everything from urban legends to CODCO.
Did you ever meet with advisors, faculty or staff while a student?
Yes, I met with several of my professors and staff throughout my academic career — many from different disciplines (my major was folklore but my minor was Newfoundland studies. As a result, I was afforded the opportunity to take courses from a variety of areas). The librarians and archivists in the QEII helped guide me in the right direction on more than one occasion. Linda White, in particular, helped ignite a passion for all things Newfoundland and Labrador and heritage related. As well, Dr. Noreen Golfman, our current provost and vice-president (academic), was my film studies professor and she helped ferment my love for the movies as we analyzed everything from Buster Keaton to the Coen Brothers in her classes. I think my folklore professor, Dr. Paul Smith, kickstarted my curiosity in subjects like legends and popular culture.

How did your extracurricular activities (on and off campus) influence your success?
In the first week of my first year of studies I was fortunate enough to land my first freelance writing gig. I went to Memorial knowing that it would be a stepping stone to journalism school. However, I needed writing experience. So I called up the editor of a local newspaper in my area and told him I was going to be his next writer. I'm not sure if it my bold passion or the fact he needed copy for the paper but within 10 minutes I had myself a writing gig. What I didn't know back then was the fact my fledgling writing career was also helping me hone my research, writing and interview skills for my courses at Memorial.

Was there an experience you had during your university years that influenced or put you on a path to your current career?
In about my third year of my Arts degree, I felt I hit a pretty decent stride. I was confident with my degree choice and felt much more self-assured to tackle meatier research projects, interview subjects or dig through the archives than in my couple of years. As I've mentioned, I now feel all of this was complimenting a growing side gig as a freelance journalist. I was using the skills and training gained from my Arts programs help foster my writing gig. My Arts degree was a direct stepping stone to journalism school and then my work in the media and my career in marketing and communications.

Did you participate in a study abroad program?
Regretfully, no.
What advice do you have for undergraduate students?
Don't be afraid to ask questions or ask for help. I remember taking a few linguistic courses as electives. I was struggling. This was reflective in my grades. I didn't want to fail the course so I met with my prof a few times and after I couple of meetings I veered back on track.