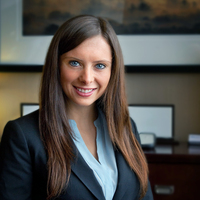 Melissa Royle graduated from Memorial with a BA (Hons) in political science and studied law at the University of Toronto. She currently practices at the firm Benson Buffett, focusing on commercial and civil litigation. Melissa is also currently actively involved with the St. John's Board of Trade and the Canadian Bar Association, and is a political commentator on CBC radio.
What would your undergraduate self think of your current job?
I think I would be proud of my position, and curious as to whether I enjoy it (I do!).

What was your biggest challenge when arriving at university and how did you address this?
I knew I wanted to study political science, but was not entirely sure what I wanted to do afterwards – law, academia, journalism. I spoke to as many people in each field as I could, participated in many relevant extra-curricular activities at Memorial and decided to pursue law.
What resources did you use while at Memorial?
I did MUCEPs (on campus student part-time jobs) to gain experience and earn money, applied for every scholarship I could, and participated in many informal aspects of my degree –- attending lectures, debates and social functions.
Did you ever meet with advisors, faculty or staff while a student?
Yes. I found my political science professors extremely helpful when discussing opportunities and career paths. I also met with faculty advisors to ensure I enrolled in the most relevant courses.

How did your extracurricular activities (on and off campus) influence your success?
Enormously. Besides aiding in my admission to law school, they prepared me for my further education and career. Networking, multitasking, confidence in professional settings were skills I developed through the Political Science Society, Global Vision, MUNSU (as Legal Aid Coordinator) and other organizations.
Was there an experience you had during your university years that influenced or put you on a path to your current career?
Studying constitutional law in political science affirmed my interest in law, since it was taught through legislation and case law. My Canadian politics courses and extra-curricular involvement assured me I wanted to maintain some involvement with local politics after university. Practicing law, like many careers, rewards hard work and dedication, and often has delayed gratification for your efforts. These skills are especially developed in the honours program, and become important in your professional life.
Did you participate in a study abroad program?
I participated in the Harlow political science program in 2006. I learned about British and EU politics, and traveled a fair bit, too.

What advice do you have for undergraduate students?
Find the balance between studying something you're interested in (so you'll do well now), and something leading to a fulfilling career (so you'll do well later). Take advantage of as many extra-curricular activities as you can, since you'll develop skills and meet people who will help you make decisions and ensure success in your future.