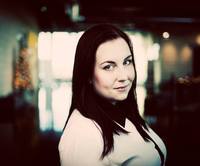 Janelle Skeard was born and raised in central Newfoundland. This gave her a good understanding of the issues facing rural communities, and showed her the importance of community development and the role that natural resource development plays in community survival. She completed her BA in 2012 and her MA in 2014 (both at Memorial) and currently works with Women in Resource Development Corporation whose mandate is to increase the number of women working in trades and technology careers. Her title is research coordinator, but she also does evaluation and program facilitation. Her job requires her to take on several different roles and work with a wide variety of people.

What would your undergraduate self think of your current job?
She would be so surprised!! Not only do I lead research projects, I'm also a program facilitator. I actually spend some days in a workshop teaching high school girls basic carpentry and electrical so that they can build and wire their own lamp over the course of a day. I never dreamed I would work with my hands. I really feel like I have the best of both worlds.
What was your biggest challenge when arriving at university and how did you address this?
I came from a community of approximately 60 people (and a graduating class of nine), so moving to St. John's and attending university was extremely overwhelming. I remember arriving at the lecture theatre in the science building for my first psychology class with hundreds of other students and it was such a culture shock for me that I didn't know how I would get through my degree. I wouldn't say I "addressed" the problem, but I learned how to manage my anxiety. Thankfully, all my other courses had far fewer students, so I was able to meet people and make friends. This definitely mitigated the anxiety of that first semester.

What resources did you use while at Memorial?
I took advantage of every free service I could find! The Writing Centre was awesome and so helpful for essay writing. I also took advantage of any scholarship or award I could apply for. I was successful on a number of occasions and actually left Memorial with a BA and an MA debt free.

Did you ever meet with advisors, faculty or staff while a student?
Absolutely. I highly recommend getting to know your professors and fellow students. It was extremely helpful for me in figuring out which direction I wanted to go in. Geography is quite a broad area, so speaking with professors and other students allowed me to make more informed choices when it came to my education.
How did your extracurricular activities (on and off campus) influence your success?
I was so lucky to be able to be a part of
The Vagina Monologues
for a couple of years. Becoming involved with that production and the associated V-Day activities definitely strengthened how I view myself and the world around me. I learned a lot about working with others for a common goal and becoming more aware of the issues facing marginalized groups. I was also the vice-president of MUGS (Memorial University Geographical Society) for a year. This made me more organized and efficient - skills any employer values.
Was there an experience you had during your university years that influenced or put you on a path to your current career?
When I was in grade 11, I enjoyed geography, but never thought about pursuing it. During my first year at Memorial I kind of took a geography class on a whim. There, it was a couple of professors who really instilled my love of geography. Arn Keeling showed me the importance of human geography and the social sciences, particularly in the context of mining communities (which led to my MA project). Kelly Vodden (now at Grenfell) was one of the few women in the department and took me under her wing, giving me my first job as a research assistant, and teaching me about community development. They showed me that geography was important in understanding so many things about the world, from politics to natural resource development. Meeting these two people truly put me on the career path I pursued, and they were both my supervisors for my graduate degree.
What advice do you have for undergraduate students?
Get as much work experience as you can, as early as you can. If you have the chance to work as a research assistant during your degree, do it! You will learn so much while doing it - not only about the topics you're working on, but also how to effectively manage your time. Actually, if you're given any opportunity that can make you a better person, always take it. Speak to people, be it faculty, staff or other students. This will give you such a great perspective and really help you figure out what you want to do in life. Take advantage of all the services that are available to you: get your essay looked over at the Writing Centre, speak to advisors, find events that serve free pizza on campus. And while you're at it, apply for all the scholarships you can. Finally, take a geography course. You live in this world - learn about it!