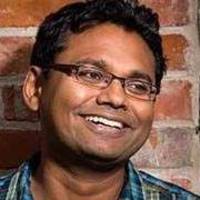 A graduate of Memorial University and ex-Muse editor. Duleepa ("Dups") Wijayawardhanahas worked with game-changing companies such as BioWare (acquired by Electronic Arts), MySQL (acquired by Sun Microsystems). In 2010, Dups co-founded Silicon Valley-funded Empire Avenue -- which became one of the top 1000 websites in the world (recently acquired by PeopleBrowser Inc.). He currently lives in Kingston, Ontario and is CTO at Green Elk and involved in way too many startups including some through the Genesis Centre at Memorial. You can catch him at blog.dups.ca and www.dups.ca.
What would your undergraduate self think of your current job?
Quite probably I would have thought that there was some mistake along the way! Certainly it's not even remotely close to where I thought my studies would take me, though not so far from my interests.
What was your biggest challenge when arriving at university and how did you address this?
Since I was an international student from Hong Kong in the days before the Internet, much of my challenges involved culture shock and trying to just make a few friends. For me, St. John's was as alien a world as arriving in Kenya and going on safari. I decided to suck up my fear and just go join a student society. Since I was always interested in journalism and writing in high school I joined The Muse and since I was already doing German at a fairly high level for a first year, I joined the German society. My advice for any student crossing over to the big bad world of university is to join a society of some sort to give a "centre base" between courses.
What resources did you use while at MUN?
A better question in my case might have been what didn't I use! I was part of and created a number of student societies, used pretty much any tool that the CSU (the MUNSU of the time) gave me, worked summer jobs through the MUCEP program, participated in as many extra curricular activities as possible, and used the digital capabilities and computers available to me. I've even snuck down to the music building and used their pianos when I've needed a break and borrowed much film gear to produce an amateur "blaxploitation" film. At my time at Memorial, and I would imagine today, it wasn't and isn't about your courses but using the vast resources available, whether people or technology, which truly sets a university apart from a simple college or high school.
Did you ever meet with advisors, faculty or staff while a student?
At all levels of my academic career, the professors and advisors that helped me along the way are without doubt some of the most important people in my life to this day. My first summer job for Dr. Hans Rollmann Sr. put me firmly in the path for my life on the Internet in 1993 and other faculty members like Dr. Erwin Warkentin and Dr. Chris Youe encouraged me to expand my horizons. Talking with and later becoming friends with staff members like Andrew Draskoy, Randy Dodge and others in computing and communications are all interactions that stand out in my mind. Every person you meet changes your life in some small way. University and college is one of the few times in our lives where we are thrown into a crucible where the many voices of so many disciplines are open to us, and even more amazing, are willing to just talk to us.
How did your extracurricular activities (on and off campus) influence your success?
Extra-curricular activities at Memorial have defined my life since then. My being co-editor of the Muse put me in charge of budgets and understanding human resources. Being production manager of the Muse allowed me to look at graphic arts, technology and streamlining a product line. Starting the MUN Shaft Society allowed me to experiment with campus marketing (this was before the Internet, mind you). Working with the MUN German Society helped me learn another culture far better than going to classes -- and how to dance the Shuehplaettler, which I have since used to amaze German clients and colleagues. Working with the CSU as a copy/print boy reminded me of the importance of the day-to-day work ethic required to get anywhere in life. Both the Muse and CHMR gave me the technical jobs that allowed me to have a career at all.
Did you participate in a study abroad program?
Nope. I would have loved to. However there were added problems as I was an international student with a Sri Lankan passport and I couldn't be bothered :) I guess for me studying at Memorial was my study-abroad program!
What advice do you have for undergraduate students?
Memorial is what you make of it. I am without a doubt the child of Memorial, but more importantly, the people I met at Memorial. If you are already looking at a class schedule in your first year, you know that you have what it takes to finish your courses, all that is is a matter of diligent studying. However, Memorial, and any university for that matter, is so much more than the coursework. Take the time to chat with those teaching you. Have a beer with a staff member. Join an organization and just give it a go. What do you have to lose? Every day I am reminded of a challenge I had at Memorial and having already experienced that challenge allows me to calmly take the challenge and try to do better than the previous effort. This is truly why we have an Humanities and Social Sciences education: To solve the challenges of human society that cannot be answered by an equation, chemical reaction or mechanical object. And we have a lot of challenges left to solve!