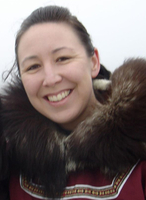 Catharyn Andersen is Memorial University's special advisor to the president on Aboriginal affairs. The appointment is effective March 18 for a five-year term. Ms. Andersen comes to the position with significant experience working with the Nunatsiavut Government. She previously served in the roles of director and Inuktitut Language Program co-ordinator with the Torngâsok Cultural Centre in Nain, Labrador. In these roles, Ms. Andersen managed and developed the cultural arm of the Nunatsiavut Government, built support for and delivered cultural and heritage initiatives, advised the Nunatsiavut executive council on language, cultural and heritage issues, led the development and implementation of the Labrador Inuttitut Language Strategy and managed language programming for Northern Labrador.
Ms. Andersen has been involved with a variety of committees and groups relevant to Aboriginal issues. She is a member of the Labrador Inuttitut Training Program Committee and former chair of the Nunainguk Historical Society. Ms. Andersen has also been harbour operations officer with the Department of Fisheries and Oceans Canada. She holds a bachelor of arts in linguistics, a master of arts in linguistics and a master of business administration from Memorial University, as well as an international baccalaureate diploma from Lester B. Pearson United World College of the Pacific in Victoria, B.C.
What would your undergraduate self think of your current job?
My undergraduate self would be happy I am where I am, maybe a little surprised that I'm in St. John's and not in Labrador, but she would think that, overall, it sounds just about right.
What was your biggest challenge when arriving at university and how did you address this?
Housing was always the biggest challenge throughout university. Moving from Labrador to St. John's meant that finding accommodations was challenging at the start of every academic year. These challenges were also different 20 years ago when there was no internet and it was more difficult to look for apartments and houses to rent in St. John's while you were living in Labrador. Everything always worked out in the end, either by rooming with friends/fellow students from home or from university.
What resources did you use while at Memorial?
I used a number of resources at the university – the library, the clinic, student groups (eg. SOTA); I also availed of various MUCEP and SWASP jobs. However, the resource I used the most was the Native Liaison Office (now the Aboriginal Resource Office).
Did you ever meet with advisors, faculty or staff while a student?
Yes I did, but looking back on it, not as often as I probably should have.
How did your extracurricular activities (on and off campus) influence your success?
I didn't take part in many traditional extracurricular activities, but having a network of fellow students and friends from Labrador was a huge support and helped in my success at university.
Was there an experience you had during your university years that influenced or put you on a path to your current career?
It's hard to pinpoint one specific experience. I believe that where I am now is a result of many experiences over the years, but if I had to choose one, it would be a conversation with Dr. Marguerite Mackenzie in which she encouraged me to study linguistics and to think about the potential work that I could do with Inuttitut. I took her advice and that led me to my first job as Inuttitut Language Program Coordinator with the Torngâsok Cultural Centre. That, I believe, put me on the path to where I am today.
Did you participate in a study abroad program?
Yes, I took part in Memorial's Russian summer program at the Russian Field School in St. Petersburg in the summer of 1998. It was a fantastic experience studying with fellow students in another country, gaining that firsthand experience of the history, culture and language that we were studying. I've always believed in exploring; if you have the opportunity to study abroad, seize it!
What advice do you have for undergraduate students?
Find balance but work hard.