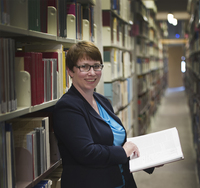 A professional editor, communicator and Viking-Age specialist, living in Harbour Main, NL, Dr. Shannon Lewis-Simpson (BA (Hons) MUN 98; MA York 00, PhD York 05) has published on constructions of cultural identity in the early medieval North Atlantic. She is a senior officer in the Royal Canadian Naval Reserve, and is currently researching the "Viking Vitae" and the Royal Naval Reserve Newfoundland Division, 1900-1922. She coordinates Community Engaged Learning within Student Life, and is an Adjunct Professor in the Department of Archaeology, Memorial University, putting her medieval training and interdisciplinarity to good use.
What would your undergraduate self think of your current job?
I don't think my undergraduate self would be surprised. I walked along multiple paths back then, and I continue to pursue Navy, books, words, problem solving and the early medieval period today. I have learned quite a lot, but there is still so much more to learn.
What was your biggest challenge when arriving at university and how did you address this?
I really did not know what I wanted to do at Memorial. I know what I was expected to do, which was to study engineering, but I did not particularly enjoy maths and sciences at that time. Dr. Catherine Innes-Parker, a medievalist, professor Donna Walsh, who studied Old Norse, and Dr. Phyllis Artiss were my first-year English instructors. They were encouraging and engaging, so I carried on.
What resources did you use while at Memorial? Did you ever meet with advisors, faculty or staff while a student?
My first-year advisor was also my physics instructor. He knew I was unhappy, asked what I really wanted to study, and he gave me permission to go explore that option.
I marched into the Bill Schipper's office and said, "Hi! I want to be a medievalist!"
I don't think Bill ever recovered from the shock.
Dr. David Bell was and is a constant mentor and sensei for me. I aspire to be as calm and as exacting a scholar.
I was one of the first graduates of the medieval studies program. We were blessed with some of the very best medieval and early modern scholars like David Bell, Richard Gyug, Aileen MacDonald, Jim Butrica, William Barker, Cathy Innes-Parker, and Bill Schipper, all of whom were and continue to be respected in their fields. I had constant one-on-one tutelage and encouragement from each of them. I was too green to know it at the time, but what I learned at MUN stood me in good stead and put me on equal or better footing than students from elsewhere when I went to graduate school.
Another under appreciated aspect of MUN is the QEII Library. Having spent many years in libraries across Europe, I can say that the service we received was excellent, with works on everything from sheep shearing to saints' lives represented in the stacks. If they didn't carry it, they got it in quickly. That was a big deal in the pre-digital world.
How did your extracurricular activities (on and off campus) influence your success?
I joined the naval reserve the same year I started university. While all of my classmates were finding summer employment, I was learning to navigate warships. Knowing that, at o' dark thirty in the morning, you were the watch officer whose job it was to keep the people safe who were sleeping below, and that your captain trusted you to do so, proved a real eye opener about responsibility, and what it meant to lead in both the present day and in the medieval period. My time at sea provided me with a different perspective of the hierarchal medieval period, to be sure.
I worked as an teaching assistant and editorial assistant for Professor Schipper, working on a database of Latin inscriptions. I also worked for Aileen McDonald as well, editing lange d'oc poetry. That was good, diverse, professional training for the future, and made me realise that I also liked to edit, teach and mentor.
For a few years I was a late night DJ at CHMR. That was good fun. Shotokan karate and many games of pool in the Breezeway kept me focused.
Was there an experience you had during your university years that influenced or put you on a path to your current career?
When Memorial acquired its 16th century Bruges Book of Hours, I had an opportunity to work with it for a research paper. That was a privilege and extremely exciting. I knew that I wanted to work with books, and the masters programme at the Centre for Medieval Studies, University of York, placed a heavy emphasis on palaeography. So, off I went, and quickly became engaged with interdisciplinary Viking studies.
Applying to York was the best decision of my life. During my MA and PhD, I travelled extensively, excavated in Scotland and Orkney, worked with thousand-year-old manuscripts and material culture, organized conferences, edited books, wrote and researched, and married an English archaeologist. While I was doing these things I was lucky enough to serve as an officer in the Royal Naval Reserve and pursue my other parallel path.
Did you participate in a study abroad program?
I was too busy working to go abroad for academic study during undergraduate work. During graduate study I participated in the SOCRATES and SOCRATES II programmes with sessions in Denmark, Germany, Poland and Estonia. These programmes and the participants within have shaped my scholarship and my life.
What advice do you have for undergraduate students?
Do everything and anything. Do what you like to do, but ensure you are self-sufficient. Listen to what people are telling you. You only have one life, make it count, and make a difference.