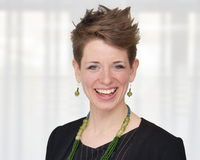 Erin Aylward is a practitioner and researcher of transnational advocacy, gender equality, and LGBTQ human rights. During her BA in political science and Spanish at Memorial University, Erin volunteered with the United Nations Populations Fund, Oxfam Canada, and several Latin American women's rights organizations. During this time, Erin also founded an NGO, the Global Citizenship Initiative, in her home province of Newfoundland and Labrador. The organization promoted active citizenship and global awareness with the provincial Department of Education.
As an MA student at the University of Ottawa, Erin investigated the experiences of Indigenous youth and women in becoming leaders and active citizens. Her thesis about the experiential leadership program Northern Youth Abroad has since been converted into some of the only peer-reviewed publications in the world about leadership, citizenship, and Inuit youth (organizations like Northern Youth Abroad and many Inuit have of course developed expert knowledge in this area outside of academia). In 2012, Erin created, funded, and filled the position of gender advisor to Engineers Without Borders Canada. Based in Ghana, Erin supported the organization in developing gender-sensitive policies and programming across four programs. Upon her return to Canada, Erin collaborated with the transnational network of gender experts Gender at Work in India, co-coordinating a global consultation with young feminist leaders.
In addition to her current doctoral studies in political science and gender and women's studies at the University of Toronto, Erin is researching best practices for advancing LGBTI human rights globally in collaboration with Dignity Initiative, a Canadian LGBTI working group. Erin is also a member of the Board Program Committee for the human rights NGO Equitas, and is an avid volunteer/program design consultant for the social enterprise Voto Mobile. She was recently named a Trudeau Scholar.
What would your undergraduate self think of your current job/position?
I think my early undergraduate self would be pretty amazed. During my undergrad, I had so many ambitions to travel, learn, and to make a difference, however, I didn't fully believe in my ability to "make it" - to get out there, make the right connections, and become engaged in transnational advocacy work. By the time I was wrapping up my undergrad at Memorial, however, I felt a lot more confident about my skills and ability to create change in the world thanks to the encouragement and opportunities that became available during the last few years of my undergrad.
What was your biggest challenge when arriving at university and how did you address this?
I think my biggest challenge was deciding what to do! I enrolled in a double major in political science (honours) and Spanish (major), but I really didn't know whether I had made the "right decision" - I was constantly questioning whether I should have chosen a different social science, like sociology or anthropology, and I simply didn't know what kinds of impacts my choice of undergraduate degree might have on my future. I tried to address this through taking a range of different courses in different disciplines during my first year, and also by reaching out to people like Denise Hooper, as an academic advisor.
What resources did you use while at Memorial?
Memorial felt almost like a playground to me; there were so many different opportunities to get involved and resources to draw on! I definitely used resources like grants to help offset conference costs on several occasions; however, the most useful resources for me were the opportunities to engage in extracurricular clubs. I was heavily involved with the MUN Oxfam campus club, which proved to be one of the most important and transformative leadership experiences of my life.
Did you ever meet with advisors, faculty or staff while a student?
Oh, all the time! I honestly don't know where I would be right now if it hadn't been for the support and encouragement that I received from a number of different faculty members throughout my undergraduate degree. Faculty and advisors and staff (for example, in the Registrar's Office), were so helpful in enabling me to make better decisions and to also believe in myself.
How did your extracurricular activities (on and off campus) influence your success?
My extracurricular activities were probably just as important as my academic work in terms of my success, personally. As someone who was interested in international development, it was important for me to learn more about the issues through collaborating with organizations like Oxfam Canada at a campus level. I was also able to draw on those experiences to travel and volunteer across Latin America during my summers, which helped improve my Spanish and gave me a greater awareness of the kind of work that I might be interested in in the longer term.
Was there an experience you had during your university years that influenced or put you on a path to your current career?
I think that there were several different experiences. I would normally travel during the summer and become exposed to all kinds of new insights and troubling realities that informed my research interests - for example, my interest in women's rights and LGBTI human rights first started from experiences that I had in Ecuador and Nicaragua, respectively. When I returned back from my travels, I always started the year with a head that was teeming with questions that I cared about, which I could then try and figure out a bit more during the school year.
Did you participate in a study abroad program?
No, I would create my own study abroad programs! 😊 However, I should mention that I would not have had the flexibility to travel as extensively as I had if I had not studied at Memorial. By living at home and choosing a quality university with affordable tuition, it meant that I had some extra income that I could put towards volunteering or traveling abroad.
What advice do you have for undergraduate students?
I would encourage undergraduate students to dive in and to try and go a bit outside of your comfort zone during your studies - take a few courses that you might not have expected to, plan a trip that seems a bit intimidating for you, or take on a leadership role that seems a bit scary. I remember when I started my undergraduate degree, my first role with MUN Oxfam was to order cutlery for an event that we were holding, and I was terrified about how I was going to possibly manage this task. Fast-forward a few years, and I've organized conferences or meetings across Canada, Ghana, and India, written program proposals for development projects in Ghana, and more. I really would not have thought I was capable of doing these things when I first started my undergraduate degree at Memorial University; however, by taking on one small challenge at a time, I was able to keep growing. And Memorial is an amazing place to grow! 😊