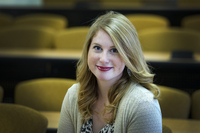 Stephanie Tucker is a graduate of Memorial's Bachelor of Arts program, with a double major in communication studies and English. She currently works as the communications and marketing coordinator for the non-profit organization Conservation Corps Newfoundland and Labrador. Stephanie is always looking for new opportunities to expand her skill set and make new connections. She is a lover of travelling, social media, and all animals, especially beagles.
What would your undergraduate self think of your current job?
I think my undergraduate self would be really proud of how far I have come to reach my current position. When I was in my first year at Memorial, I started out doing communication studies, but I found it really challenging and I almost changed majors. I''m really glad that I got through those first few difficult semesters and stuck it out because I absolutely love my current job!
What was your biggest challenge when arriving at university and how did you address this?
My biggest challenge when arriving at university was adjusting to the time commitment. I always got good grades in high school, but it just came naturally to me and I didn't spend an excessive amount of time studying. This all changed in university. When I arrived at Memorial I very quickly learned that a lot more dedication, commitment, and hard work is required in order to achieve top marks. I remember getting a 60 per cent on my very first test in communication studies and it was a huge eye-opener, because I had never gotten anything below an A in my life. While it certainly took some getting used to, I thankfully overcame the transition and with a lot of work, I managed to reclaim my high academic standing and graduate with an overall 4.0 GPA.
What resources did you use while at Memorial?
I made use of as many of Memorial's resources as I could throughout my degree, including academic advising, media equipment rentals, library resources, and so much more. I always took advantage of extra sessions offered outside of the classroom. For example, when I took French I went to an optional weekly conversation class in order to practice the material learned in class. I also made sure to familiarize myself with the Memorial library website, which played a huge role in all of the research I did throughout my Bachelor of Arts degree. It was awesome to have so many different outlets available to support me during my studies.
Did you ever meet with advisors, faculty or staff while a student?
I always met with my professors during their office hours, which was a great way to build a relationship, distinguish myself from other students, and get extra help. During my second year at Memorial, I also met with the Humanities and Social Sciences' undergraduate advisor, Denise Hooper. I went to Denise to simply make sure I was taking the right courses, but she was such an incredible resource and she changed my life. Without Denise I would have never known about the Heaslip scholarship, which I ended up winning and it paid for my entire university education. I would recommend that every Humanities and Social Sciences student speak with an advisor to learn about what support is available to them, because the opportunities are endless!
How did your extracurricular activities (on and off campus) influence your success?
Extracurricular activities are the best way to build your resume and learn about the industry in which you want to work. Once you finish your degree, in order to find work, you need to have a background of relevant experience to supplement your education. I sought out volunteer positions that would help me on the path to my communications career, such as volunteering with Rogers Community Television's program "Out of the Fog," with the St. John's IceCaps as a communications Intern, and with Memorial's communication studies society. Each of my extracurricular activities helped me to expand my network, learn practical skills, and most importantly, gain experience in my desired field of work.
Was there an experience you had during your university years that influenced or put you on a path to your current career?
In summer 2014, I was looking for a summer job where I could build upon my communications skills, and I landed the position of regional supervisor with Conservation Corps Newfoundland and Labrador (CCNL). In addition to the required duties of this position, I went out of my way to show the organization my communications abilities by assisting them with their social media delivery and independently writing, filming, and editing 12 promotional videos about their Green Team program. I'm very happy to say that my efforts at CCNL paid off, because I was offered a position as the communications and marketing coordinator upon completion of my degree.
Did you participate in a study abroad program?
I participated in two study abroad programs, which were both incredible experiences. The first was in spring 2013 in Conegliano, Italy, with the MUN in Italy program. The second was in fall 2014 in Harlow, England, with the Literary London program. Having the opportunity to travel abroad during my degree was amazing and I'm so thankful to have had such fantastic opportunities. I would highly recommend studying abroad to anyone with a desire to expand their horizons, explore the world, and have an unforgettable experience.
What advice do you have for undergraduate students?
My advice to undergraduate students is to do as much as you can while you are a student. There are so many opportunities for students for scholarships, travel, volunteering, and networking. Take advantage of it and don't be afraid to put yourself out there. You never know until you try.