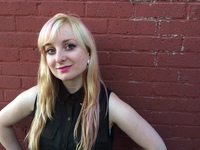 Zaren Healey White graduated with a Bachelor of Arts (Honours) in English and Gender Studies from Memorial University in 2010, at which point she was recognized with the Chancellor's Undergraduate Award for leadership. She went on to complete a Master of Arts in English at McGill University (2012) and is back at Memorial now pursuing a Master of Gender Studies degree. Zaren has worked as a study abroad and career advisor at Memorial and has been working as a broadcast journalist and web editor with VOCM News in St. John''s since 2012.


What would your undergraduate self think of your current job?

My undergraduate self would definitely be excited that I have ended up working as a broadcast journalist and web editor at VOCM News. I volunteered and worked as a writer and copy editor for the Muse newspaper at Memorial throughout my undergrad, volunteered with the campus radio station CHMR-FM, and participated in many opportunities to hone my public speaking and presentation skills in my co-curricular activities. As a result, my work in radio and as a web and social media editor fits with many of the skills I cultivated throughout my undergrad. I've always loved interacting with people, telling stories, and absorbing information. Working through web and social media, I get to process, consume, and communicate a ton of information every day.

What was your biggest challenge when arriving at university and how did you address this?

My biggest challenge starting university was the transition from high school, where I was heavily involved and able to balance many activities with high performance in school work. At university, I had to devote a greater degree of time and effort than I was used to in order to achieve academic excellence. I definitely felt a little lost at the beginning, adjusting to a new environment without all the involvements that made me feel at home in high school. Once I got used to the new setting and academic challenges, as well as sought out volunteer and co-curricular activities, I became engaged and felt at home at Memorial. Going to Memorial, I always felt purposeful – there was a lot to do, and I wanted to try as many things as possible.

What resources did you use while at Memorial?

I availed of so many resources while studying at Memorial. I quickly accessed the Student Volunteer Bureau and enrolled in the Volunteer Incentive Program. Volunteering as a new student orientation group leader going into my second year of studies opened the gate to many other activities with Student Services and Memorial leadership programs. I recall visiting the Academic Advising Centre several times, especially early in my degree when I was deciding on my major. Once I decided to major in English and pursue an honours program, I met routinely with advisors with the English department. I also availed of Student Health and the Counselling Centre at various times – having those services available on campus are invaluable to assisting with a student's holistic health needs, physical and mental.

Did you ever meet with advisors, faculty or staff while a student?

I have always tried to take opportunities to visit professors during office hours. This was not only to engage face to face and receive advice on my work, course of study, and other endeavours, but to get to know my professors and allow them to get to know me. I have always found demonstrating to your professors your interest, enthusiasm, and eagerness to learn to be a very rewarding part of building positive mentoring relationships. Throughout my undergrad, I sought out as many opportunities to be advised and mentored as possible. This helped me decide to apply to graduate programs and, ultimately, move into a Master of Arts program after my undergraduate degree.

How did your extracurricular activities (on and off campus) influence your success?

I pursued extracurricular activities with the same rigour and commitment which with I pursued courses towards my degree. While school was extremely important to me, I saw on campus jobs and volunteer roles as amazing ways to get experience, develop skills, and foster connections. I volunteered a lot both on and off campus and most of my volunteer activities eventually translated into employment opportunities.

Working as both coordinator of the Student Volunteer Bureau and copy editor of the Muse for the last two years of my degree contributed greatly to my success. While working multiple jobs and volunteering was always a challenge, while aiming to stay on the Dean's List and do my best in courses, I have always found that having simultaneous endevaours keeps me energized and motivated. Applying myself to a lot of activities also taught me to recognize my own limits and value balance and down time, too. Learning to work hard academically, while always having at least one job and several volunteer commitments, shaped my work ethic and raised my stress tolerance. I also gained a lot of skills in these activities that led to job opportunities since graduation.

Was there an experience you had during your university years that influenced or put you on a path to your current career?

Studying English, I wanted to find opportunities for writing and editing outside of my academic work. My work at the Muse laid the groundwork for a lot of the skills and interests I currently employ every day working in the media. I also found the combination of my two focus areas, English and gender studies, extremely complementary. These two interests, and my subsequent graduate work, led me to start a feminist blog. Now, as a broadcast journalist, I have had the opportunity to moderate some gender issue oriented roundtable discussions as well as weigh in one various radio talk shows as a feminist critic. There is a real need for critical thinkers, and being able to combine my interests of analysis and social justice with my work in the media has been awesome.

Did you participate in a study abroad program?

I was fortunate enough to travel to Memorial's Harlow campus in England for a group study program with the Department of English during summer 2008. While I had travelled extensively across Canada, it was my first time leaving the country. This experience was foundational to many subsequent interests. Studying abroad and travelling helped me cultivate my independence, curiosity, and desire to seek out new and challenging experiences. I think studying abroad made me realize I could go anywhere and try anything. It definitely contributed to my eventual decision to study in Montreal for a graduate degree.

What advice do you have for undergraduate students?

It's important for new undergraduate students to know that things will fall into place. I understand the pressure and desire to have it all figured out – I have always been a person who is anxious to know what the next steps are. When you start university, though, it's a significant transition and students should allow themselves some time to experiment with different courses and subjects, as well as explore extra-curricular activities that are an intrinsic part of student life. It could be the experience of a campus job, volunteer activity, or club that helps shape long-term interests and career goals. Make use of resources, ask questions, and allow these years to be a time of learning, growing, and trying new things. University will inevitably be stressful at times, but if you find a subject you love, as well as experiences to enrich your day to day life as a student, it can also be an exciting, rewarding, and transformational time.