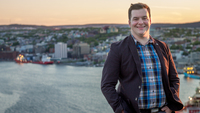 Scott Tobin hails from Kippens, Newfoundland and Labrador, on the west coast of the island. Starting his undergraduate degree in 2009, Scott faced many hurdles and overcame many obstacles. His tenacity, perseverance, and adaptability are key personality traits that have lead to his academic and subsequent career success. Scott completed three study abroad programs, in Québec, Saint-Pierre-et-Miquelon and Nice and graduated with his Bachelor of Arts in French in May 2013. Alongside his studies Scott participated in several extracurricular activities such as Canadian Parents for French, the Heart and Stroke Foundation, Eastern Wind Ensemble, and a variety of volunteer positions for Memorial's French society. In the spring of 2015, Scott completed his first year of teaching French immersion at Holy Heart of Mary Senior High in St. John's.
What would your undergraduate self think of your current job?
In retrospect I do not believe that I would have been so lucky to get meaningful employment straight out of the gate. I always imagined a sort of buffer job that would serve as a transition into a professional career. I believe that my undergraduate self would be proud of my job as a French immersion teacher - it means that I faced many obstacles and succeeded. Some of these successes include: achieving high grades, completing two degree in five years, learning a foreign language at near native fluency and acquiring a wealth of life changing memories. It is always hard to predict where you will be in five years, but I believe that I have found a place where I feel at home in my career. My undergraduate degree certainly prepared me well for my new profession.
What was your biggest challenge when arriving at university and how did you address this?
My university years consisted of several life changing conversations and life altering experiences. But by far my biggest challenge was finding out who I was and am. In my first semester I almost felt pressured to pursue a science degree when I knew that in my heart of hearts, that was not where my passion was. I decided to take a variety of courses in my first year to find out what made me happy and realized my passion for studying French. Through deliberately broadening my horizons I was able to see the whole picture and not just the straight and narrow. If I had given in to the initial pressure to study science, I would have deprived myself of pursuing the degree that best suited me.
What resources did you use while at MUN?
During my first two years (when I primarily lived on campus) I availed of the Queen Elizabeth II Library, the Digital Learning Centre, Academic Advising, Math Help Centre, Career Development and Experiential Learning, the Works, the Aquarena, the Counselling Centre, MUNSU, Answers and several societies and clubs. In my later years I would say I became a resource myself through my work as a language monitor in the Digital Learning Centre, a Frecker Programme resource agent and Student Ambassador. By availing of resources during my first years at Memorial, I in turn, became a valuable resource in and of myself.
Did you ever meet with advisors, faculty or staff while a student?
At any time I felt unsure or uncomfortable, academic advisors, professors and department heads offered me endless guidance to set me on the right path.
How did your extracurricular activities (on and off campus) influence your success?
I owe a lot of who I am today to my involvement in extracurricular activities during my undergraduate years. By joining the French society at Memorial I was able to meet other people in my program and build confidence in my organizational, event planning, leadership and French-speaking abilities. Being a French horn player in the Eastern Wind Ensemble for the past four years has given me teamwork, precision, musical and performing abilities. My current and past involvement with Canadian Parents for French has honed my profession skillset. As a member of our B.Ed society (2014) I enhanced my time-management, social skills, social media acuity, and ability to bring people together. With my extracurricular experience, I went from drawing up bake sale posters to advocating for FSL inclusion at a national conference. I truly believe all of these aforementioned influences have definitely leant themselves to my success.
Was there an experience you had during your university years that influenced or put you on a path to your current career?
I had three experiences during my undergraduate program that showed me the path to my current career. By studying in France I was able to realize the value that the language played in my life. I love speaking it, learning it and improving it. I knew that whatever career I chose I needed to keep the language and passion alive. My job as a French language monitor was also key to understanding my need to inspire. From answering grammar questions to instructing conversation classes I knew that being able to get consistent attendance and also provoking students to do things that I did, I was inspiring people. Finally, my involvement with Canadian Parents for French helped changed the face of French learning in our province. We tackling zoning issues for buses, created scholarship opportunities and speaking events. I know that these three experiences all relate to teaching and helped me make a good career choice.
Did you participate in a study abroad program?
Yes, the Frecker Programme for three months in the fall of 2010. I also spent nine months in France doing the Third Year in Nice programme from September 2011 to May 2012.
What advice do you have for undergraduate students?
Take the road less travelled. Don't sell yourself short. Find what makes you happy. Take a chance on trying something new. Step outside your comfort zone – you never know what you may find. Give your time to a worthy cause. Don't lose sleep by staying up all night studying. Take breaks. Travel. Get to know your classmates. Don't get down on yourself if you get low grades – there's always another chance. Believe in yourself and don't lose sight of who you really are. And of course … tomorrow is a new day!