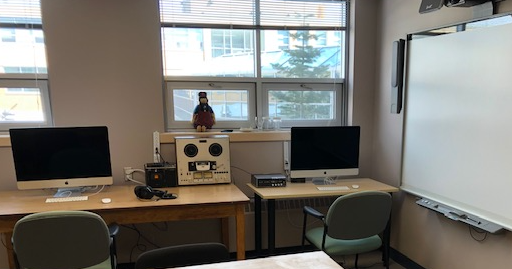 Image source: Photograph by Nicholas Welch
an online searchable archive of textual, audio, video and photographic material in and about Indigenous languages
This project aims to establish an electronically searchable online digital archive of the Indigenous languages of Labrador: Innu-aimun and Inuttut. It will fill several roles:
a backup for texts, photographs and audio and video recordings held by the Linguistics Department's Indigenous Languages Laboratory
a repository for similar material held by Labrador community members who wish to make use of it
a corpus of linguistic data for Labrador languages, electronically accessible to learners, teachers and linguists The project will proceed in three stages:

Construction of a database management application. This stage is nearly complete. It began in 2019, funded in part by my CRC and CFI grants and in part by a grant from Libraries and Archives Canada which I hold in partnership with Mamu Tshishkutamashutau/Innu Education and the Memorial University Library.
Digitizing and uploading of holdings. This stage is ongoing, with graduate research assistants handling the material in the Indigenous Languages Laboratory, and community language workers, trained at Memorial, handling material held in the communities.
Tagging and parsing of uploaded files. This stage will begin in Fall 2021. Each file will be tagged with identifiers for its topic, context, creators, and important linguistic and grammatical information. In addition, within each text file, individual sentences will be tagged, parsed and glossed, with translations into English, French, and other Indigenous languages according to need. Video and audio files will be transcribed and the transcriptions similarly tagged and parsed. When the database is complete, community members will be able to access extensive records of their language and its speakers from their homes, and learners, teachers and academics will be able to retrieve texts, stories, or individual sentences by searching for topical or grammatical features.
Additional Researchers outside the Faculty of Humanities and Social Sciences
Kanani Davis, Mamu Tshishkutamashutau/Innu Education
Janet Bangma, Memorial University Library